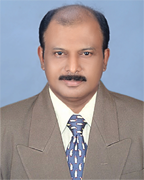 Name :A.XAVIER RAJA
Address :S/O A.D.Amirtha Raj,798/152,opposite st.Mary's Tower,
Maravankudiyerruppu,Nagercoil 2,
K. K. District, Tamil Nadu pin 629002.
Father Name :A.D.Amirtha Raj
On 3-3-2003, 12.10 Pm To 1.05Pm (55 Minutes) in Rashtrapati Bhavan, New Delhi : I met President of India APJ Abdul Kalam Discussion my invention and I handover all my defense research works
In research work :19 year
DOCUMENTARY OF THE UNIVERSE : "In the region between Mars and Jupiter, two planets did not get spherical shapes.One Asteroid belt other one Milky Way, Milky Way can be seen south of Australia. And Antarctica". Jupiter's and Mars's speed is very difference to other planets.
Work :Clerk, Tamil Nadu, Government Educational Department, In the year 2015, I have instructed the project work to the B.E, M.E and student of St Xavier Catholic Engineering College, Sunkankadai , Nagercoil. PIN 629011,
Registered in patent :8 patent
Title of Patent -
: Frequency Trace Mover, Automatic Particular Direction Changing System Patent Reg no 343/CHE/2005,dated 31-03-2005,Alternate Missile Patent Reg no 904/CHE/2003dated06-11-2003,Extra Range Bullet Patent Reg no 345/CHE/2005dated31-03-2005,Automatic Aircraft Attacker Patent Reg no 906/CHE/2003dated 06/11/2003 , Cyclone Destroyer Patent Reg no 346/CHE/2005dated 31-03-2005, Way Point Tracer Patent Reg no570/CHE/2011 dated28-02-2011,Gravitation Force Create Current Patent Reg no 1674/CHE/2012dated 30-04-2012.
Received patent : "Frequency Trace Mover" /Anti -Satellite Missile - ASAT/ Patent No.201491 D-CHE/ 0877 dated 15-12-2003, GOVT OF INDIA.
On 8.01.2007Submitted this patent invention to DRDO via to Prime Minister Office, GOVT OF INDIA. DRDO published video in Video 1 and Video 2
Anna University Meeting link, photo
Press Meeting in Chennai, video in (87 Medias)
Books and News Papers "Our Nation Crosses Veto Power Countries"
World first invention's movie for Defense space to space, space to surface Satellite Missile - ASAT
World first scientific movie for cyclone in
World first scientific movie for DOCUMENTARY OF THE UNIVERSE in
Discussion for Invention with Sun TV, KTV video
All India Radio Link Audio (How to create new invention)
Award "BEST CITIZENS OF INDIA 2016", "BHARAT GAURAV AWARD"
American Physical Society
European Physical Society
Indian Science Congress